Partnership
It's no secret that the $650 billion U.S. grocery industry is extremely competitive, especially as Amazon ramps up its grocery delivery segment. Market leaders like Kroger know that now is not the time to scale back innovation investments. In fact, by investing in its technological infrastructure and capabilities today, Kroger is preparing itself for even greater profits in the long-term, with a focus on "fresh".

For nearly a decade, Mission Data has been a trusted research and development partner of Kroger's, as the company has digitally transformed its store operations to embrace the future of retail. Kroger has focused on creating the most innovative solutions to improve customer experiences and workforce efficiencies while increasing its bottom line. Mission Data engineers have developed several Internet of Things (IoT), mobile, and web-based solutions to support Kroger's mission to provide frictionless experiences for customers and employees.


Innovators in the Internet of Things
Becoming a Connected Store

---
Keeping foods at safe temperatures is critical to food quality and safety, and refrigeration is essential to any grocery store or supermarket selling fresh goods.
---
Every year, several high-profile food safety cases remind us of the paramount importance of food quality. Cold temperatures (below 41℉) slow the growth of bacteria. This is the temperature all Potentially Hazardous Foods (PHFs) should be when received and stored. Several variables can adversely affect quality control throughout the cold chain, such as customers opening refrigerator doors or inconsistent logging methods among staff. At a minimum, these issues can be very costly for operators, and at worst they can be catastrophic.

While Kroger's practices of temperature logging were well-established, the company recognized the opportunity for technology to revolutionize this labor-intensive and inefficient process. Kroger's R&D department worked with several technology partners, including Mission Data, to introduce a ZigBee-based wireless sensor network to monitor operational data, starting with
temperature fluctuations in cold and frozen food cases. The use of IoT sensors to leverage real-time data was still innovative among retailers at the time, and there was no precedent for a deployment of temperature monitoring at the scale Kroger was discussing—more than 220 sensors per store.

The Kroger team tested the solution for several months to integrate the system with a variety of refrigeration units, each with its own defrost settings. While the physical installation of the cooler and freezer sensors was not complicated, facilities engineers were required to ensure proper placement of the sensors—a sensor placed too close to the coldest part of the unit could produce false readings. Beyond installation, implementation of the solution in pilot stores included a minimal amount of training to show employees how to use the new system.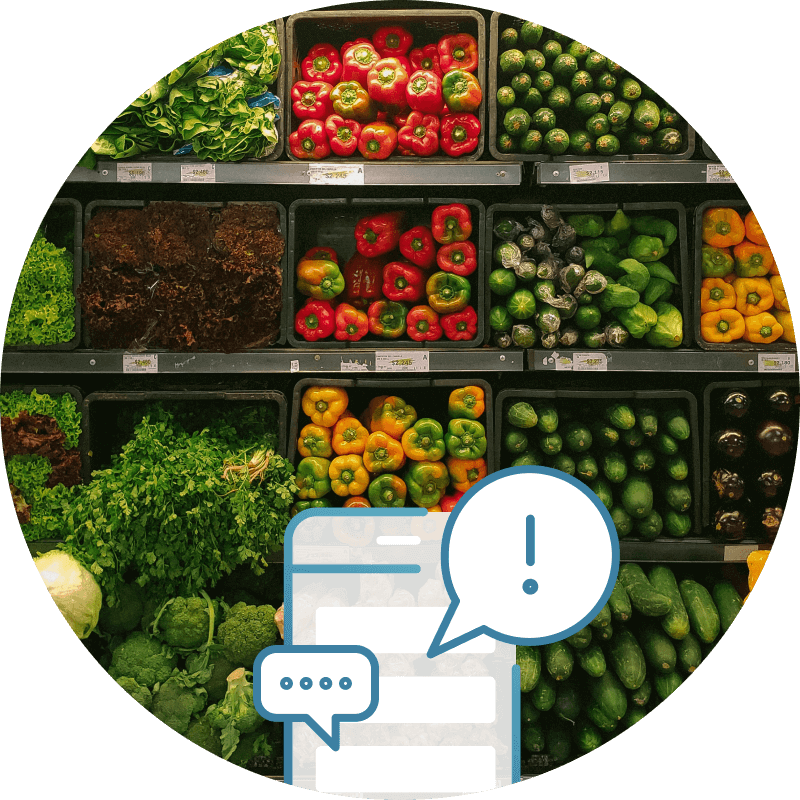 The Results
Data Insights & Strong ROI
Kroger has rolled out its automatic temperature monitoring program in all locations. The program monitors temperature trends and sends alerts to store management and facilities engineers when anomalies indicate a problem. The alert feature enables store associates to react to negative temperature trends well before they become food safety issues.

Temperature monitoring proved an advantageous choice for Kroger's first operational IoT solution, giving the Fortune 50 retail giant a 5:1 ROI on operating expenses. Kroger's temperature monitoring solution reduces energy consumption and supports its overall commitment to energy efficiency (average store electricity use has fallen more than 30 percent since 2000), as well as gives the retailer a proactive edge on refrigeration equipment maintenance, preventing costly inventory losses. This means less spoiled food going to waste, reducing perishable shrink by over $5 million per year.

Moreover, Kroger's information architects now have a wealth of operational data and intelligent reporting to leverage in their decision-making. Additionally, the data collected gives Kroger a competitive advantage to take a leadership position in the mind of consumers when it comes to "freshness".
"The benefits are tremendous. The labor savings justified the solution, but the food safety and quality benefits became our biggest driver for rolling it out across our enterprise."
Brett Bonner
Vice President of Research & Development Kroger
A Food Safety Technology for All

Mission Data launched OpSense based on the temperature monitoring solution developed for Kroger. Real-time continuous monitoring is combined with task management checklists, customizable alerts, and reports to deliver an end-to-end operations management solution. OpSense makes it easy to ensure food safety compliance with actionable insights. Monitor temperature, humidity, open doors, HVAC conditions and more, maximizing productivity across operations, facilities, equipment, and the workforce.

Around-the-clock automated monitoring helps businesses meet food safety guidelines such as HACCP and FSMA consistently, rather than costly and error-prone manual observation. OpSense is easy to set up and introduce to staff, and designed to deliver quick ROI while empowering employees to focus on customer experience while ensuring the freshest food for customers.

Consolidate data from all of your sensors and third party platforms on a single, intuitive dashboard and gain a 360-degree view of the business by connecting facilities, equipment, and processes. Role-based access makes it possible to monitor and analyze data throughout the supply chain on custom designed web-applications accessible from any device. The scalable, cloud-based architecture is designed to integrate with existing back-office platforms.
OpSense is a Real-time Continuous Monitoring Solution